The Stages of Cottage Construction: From Vision to Reality
Building a cottage is an exciting and rewarding endeavor. It allows you to create a haven where you can escape the hustle and bustle of everyday life and immerse yourself in the tranquility of nature. However, the process of constructing a cottage involves several stages that require careful planning, coordination, and expertise. In this article, we will guide you through the various stages of cottage construction, turning your vision into a stunning reality.
1. Planning and Design: Laying the Foundation
The first stage of cottage construction is planning and design. During this crucial phase, you will work closely with architects, designers, and builders to develop a comprehensive plan for your cottage. This involves determining the layout, room sizes, and overall style that align with your vision and lifestyle. Considerations such as the number of bedrooms, bathrooms, and common areas, as well as any specific features or requirements, should be carefully addressed. This stage sets the foundation for the entire project and ensures that your cottage will be functional, comfortable, and aesthetically pleasing.
2. Obtaining Permits and Approvals: Ensuring Compliance
Once the design is finalized, the next step is to obtain the necessary permits and approvals. Building codes, zoning regulations, and environmental considerations vary by location, so it's important to work with professionals who are well-versed in local requirements. This stage involves submitting plans, obtaining permits, and addressing any potential issues or concerns raised by regulatory authorities. Ensuring compliance with relevant regulations and guidelines is essential to ensure a smooth and legally sound construction process.
3. Site Preparation: Clearing the Way
With permits in hand, it's time to prepare the site for construction. This stage involves clearing the land, grading the site, and preparing the foundation. The site must be properly leveled, and any trees, vegetation, or debris that may impede construction or pose safety risks must be removed. Excavation and foundation work are carried out during this stage, setting the groundwork for the structure that will soon rise on the site.
4. Construction: Bringing Your Cottage to Life
The construction stage is where your vision begins to take shape. Skilled craftsmen and construction teams work diligently to erect the walls, install the roofing, and create the framework for your cottage. Plumbing, electrical, and HVAC systems are carefully installed to ensure functionality and efficiency. This stage requires coordination among various tradespeople, including carpenters, plumbers, electricians, and masons, to ensure that each aspect of construction is executed flawlessly.
5. Interior Finishes: Adding the Personal Touch
As the construction progresses, attention turns to the interior finishes that give your cottage its unique character. This stage includes installing flooring, cabinetry, countertops, and fixtures. Paint colors, textures, and decorative elements are chosen to reflect your personal style and create a warm and inviting atmosphere. It's an exciting phase where you get to see your cottage come alive with the finishing touches that make it truly yours.
6. Exterior Finishes: Enhancing Curb Appeal
The exterior finishes of your cottage play a vital role in its overall aesthetic and durability. Siding, roofing, windows, and doors are carefully selected to blend harmoniously with the surroundings and provide protection against the elements. Landscaping and outdoor features, such as decks, patios, and pathways, are also addressed during this stage, adding to the charm and functionality of your cottage's exterior.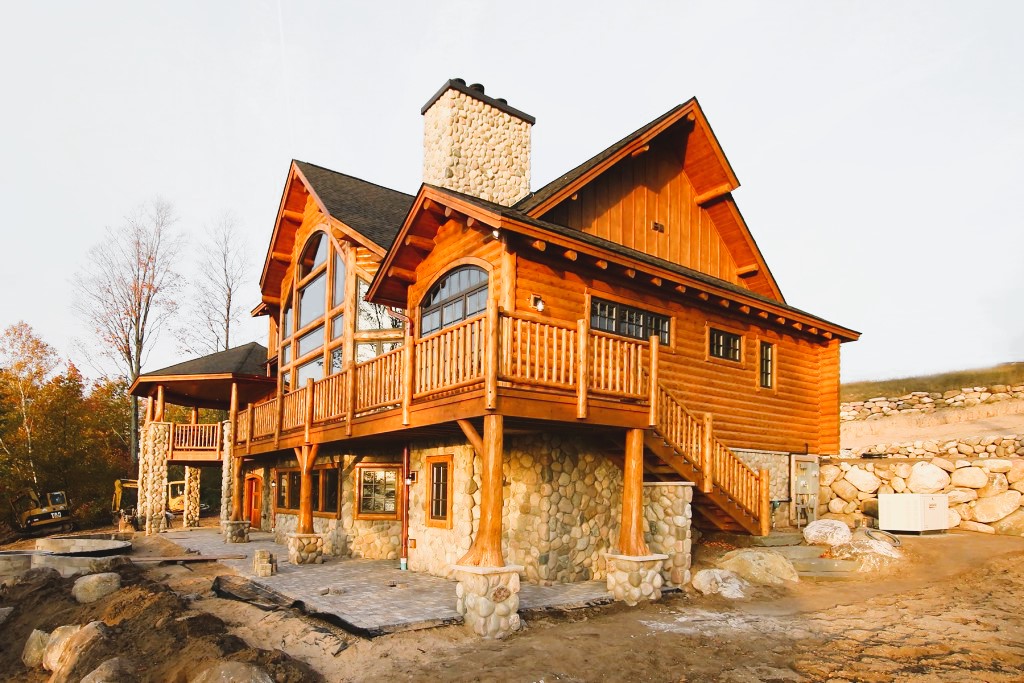 7. Final Inspections and Handover: Celebrating Your Achievement
Before you can fully enjoy your new cottage, it must undergo final inspections to ensure that it meets all safety and quality standards. Inspectors will review the construction process and verify that the cottage complies with building codes and regulations. Once all inspections are successfully completed, you will receive a certificate of occupancy, marking the official handover of your cottage.
Building a cottage is a complex undertaking that requires careful planning, expertise, and attention to detail. By understanding and following these stages of construction, you can navigate the process with confidence and see your dream cottage come to life. Remember, working with experienced professionals will help ensure that each stage is executed seamlessly, resulting in a cottage that exceeds your expectations and provides a lifetime of cherished memories in the embrace of nature.